Prenatal Singing
The aim of prenatal singing is to support women during pregnancy, birth and post-natal. This original approach enables pregnant women and professionals working with pregnant women to explore the rich potential of specific voicework, vocal sounding and singing during pregnancy, at birth and post-natal.
Origins
Prenatal singing was developed through Psychophonie, a unique and holistic approach to singing created in the 1960's by Marie-Louise Aucher, a French classical singer and musician. As a singing teacher, she became interested in how some of her pregnant singing students were benefitting from psychophonie. She believed that all human beings were very receptive to sound vibrations and particularly the baby in the womb.
In 1976, Doctor Michel Odent who was working in a maternity unit in Pithiviers, France invited Marie-Louise Aucher to lead weekly prenatal singing workshops. In the same year, a midwife who Marie-Louise Aucher had trained created a prenatal singing group at the well known maternity hospital 'Les Lilas' near Paris. Both these workshops still exist. Prenatal singing has since successfully developed in France and is now gathering a lot of interest in Europe.
Well-being and body awareness
Pregnancy is a privileged time for singing as attention on the body is intense during these nine months. This physiological change requires an adaptation which is not always easy for the pregnant woman. Singing involves the whole body and singing during pregnancy enables pregnant women to connect better with body sensations, to understand better the pregnancy process as well as increasing body awareness which is essential during birth.
Prenatal singing promotes well-being throughout pregnancy. It helps the pregnant woman to feel better and to prepare herself for the birth through body exercices, breathwork, sounding, vocalization and a specific singing repertoire adapted to pregnancy, birth and post-natal.
Prenatal singing during pregnancy deepens body awareness through various exercices such as :
development of vibration awareness when listening to sound and during vocal expression
body posture and postural self-support: feet, legs, abdominal muscles, back, expiratory muscles
exploring different ways of breathing, breath management and breath control
adjustment to the pelvic tilt
phonation
Prenatal singing enables women to manage better their pregnancy and the births of their babies.
Developping the bond with the baby in the womb
Prenatal singing allows the mother to connect and resonate with her baby and establish a special relationship, strengthening ties between mother and baby.
Singing during pregnancy produces vibrations which are beneficial to the baby's physiological, emotional and psychological development and balance. The baby in utero is surrounded by many kinds of sounds and prenatal research studies show that during pregnancy the baby is very sensitive to them particularly the parent's voice and that the baby is already reacting differently to low or high pitched sounds. The mother's singing voice provides a gentle sound massage in the womb, promoting the baby's feelings of well-being and healthy development. For the baby, the mother's voice is the main point of reference before and after birth. This maternal vocal imprint will have a deep effect on the baby throughout life.
The repertoire of songs specific to pregnancy such as lullaby, soothing baby songs or motherhood songs, some of which have been composed by Marie-Louise Aucher, enhance and support the contact, relationship and closeness between the mother and the baby in utero. It has been found that babies show preferences for certain songs. The physical well-being felt by the mother during prenatal singing exercises benefits the baby.
Labour and birth
Breathing is inseparable from singing and plays an important role during labour. Regular practice of a variety of exercises during pregnancy eases labour and prepares the mother for birth contractions. Sounds are made on the outbreath. This vocal sounding allows the pregnant woman to manage the flow of air very easily and at the same time benefits from the vibration of the sounds as they gently massage her pelvis. Supporting the birth process through sounding and vocalizations also help the mother to relax muscles, ease tensions and control pain. The sounds are chosen in relation to the scale of resonances used in psychophonie. This scale establishes a connection between notes and various parts of the body.
Post-natal
One of the close ties between mother and baby during pregnancy is the mother's and father's voices. Researches show that new born babies react particularly to the parent's voice and many mothers who have practiced prenatal singing have reported that not only was their baby more sensitive to music and movements and showed certain preferences but also that the baby was soothed and comforted when listening to the songs that the mother sang during pregnancy. The mother singing to her new born also helps adjustment to the new environment.
All the exercices practiced during pregnancy are then adapted to help the mother to reconnect with her body and continue to support her during the changes which are taking place after the birth.
Training in prenatal-singing
Training in prenatal singing is available for anyone who is interested in running prenatal singing workshops for pregnant women and for any professional work with pregnant women including midwives, doulas, health centers and maternity hospitals.
If you are interested in receiving more information about prenatal singing and training, please send an email to : psychophonie@yahoo.co.uk
Book : 'Le Chant Prénatal'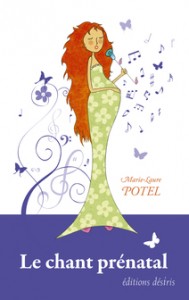 Marie-Laure Potel, a French musician, a psychophonie trainer with over twenty years experience and a pioneer in prenatal singing in France, has written the definitive book on prenatal singing. This comprehensive and clearly written book is only available in French for the moment. People who read French can order this book on the internet.